At our Academy students are offered comprehensive advice and a wide range of opportunities to develop their awareness about future careers. We want all of our pupils to aim high and reach their full potential.
The designated careers lead for The East Manchester Academy is: Miss Lonsdale.
To speak to someone about careers please phone the main school number and ask for the Careers Team.
The date of our next review of the information published here on our careers page is: June 2024.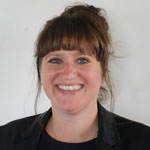 Miss Lonsdale (Assistant Headteacher – Student Support and Community Relations)
Phone: 0161 230 8039
---
Quality in Careers Standard

We have been awarded the Quality in Careers Standard. This is in recognition of our excellent careers education, information, advice and guidance provision, incorporating Gatsby Benchmarks.
This is awarded by Inspiring IAG, which is a Licensed Awarding Body for the national standard. It is a well-deserved achievement, recognising the hard work of all of our staff.
CEIAG Policy
For our latest CEIAG Policy please visit our policies page.
How we Measure and Assess the Impact of our Careers Programme
Destination measures
Student, parent and staff voice
Employer feedback
Visiting partners
Work experience evaluation
Website analytical review
External accreditation
Activities
All of our sessions are virtual at the moment to comply with COVID requirements.
Our Careers team support students from Year 7 onwards through a range of activities, including:
Careers fairs
Class sessions and assemblies
Guest speakers from industry
Talks from local colleges, training providers and universities
Trips and workplace visits
University and college visits
Parent evenings – our Careers Adviser is available for advice and guidance
Year 9 Options
In Year 9 we support students when choosing their options. By making the right decisions and choosing the subjects that they will excel in, students have more options in the future.
Work Experience
In Year 10, all of our students have the opportunity to take part in a week of work experience with a local employer. This will give them the chance to develop their employability skills and knowledge of different sectors in the world of work. One to one guidance interviews are also offered to Year 10 students and they will all take part in colleges taster days at the end of Year 10.
Year 11 Guidance Interviews
All Year 11 students are offered a one to one guidance interview with our School Careers Adviser to support them in making their future choices. Follow up appointments are also offered to pupils who need more time or support to make the right decisions. In addition, we ensure all pupils have access to a range of guest speakers and visits so they can make well-informed choices.