Celebrating Excellence Careers Carousel
( Published: 11/11/2020)
On Tuesday 20th October 2020 we were able to welcome special guests, representing a range of industries, as part of the Black History Month 'Celebrating Excellence Careers Carousel' event.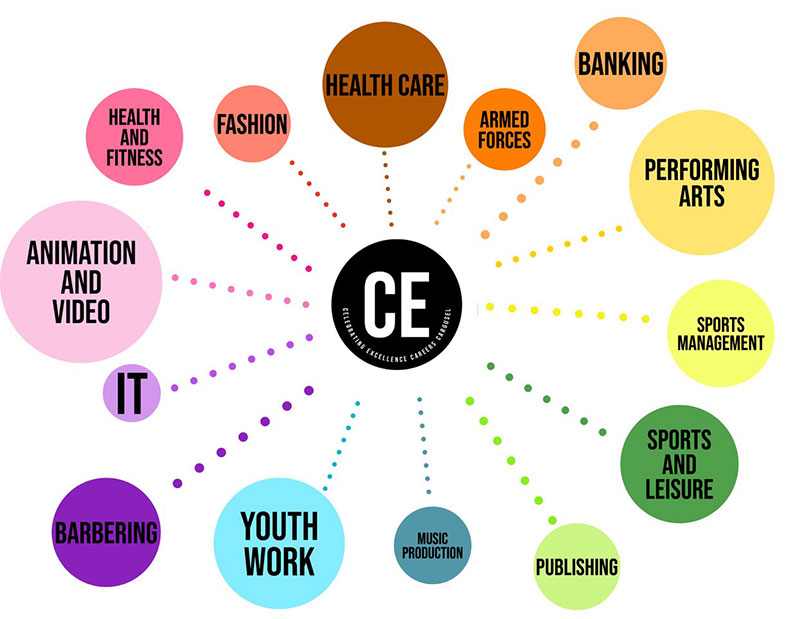 The event aimed to increase student awareness of opportunities in a range of industries and offer an insight into each guest's journey into employment/self-employment. Social distancing measures were put in place.
Visitors from sectors including, banking, IT, performing arts, armed forces, sports management, youth work, publishing, barbering, music production, animation and video, fashion, sport and leisure and health care offered their expertise and advice on career choices.
It is hoped that the event, based on a speed networking concept, acts as a catalyst for further independent and active research into possible career progression pathways.
To wrap up an extremely successful event, student leaders Fawaaz and Taofiqat conducted a Q&A with a panel of 3 guests: Neal Strickland (flight sergeant at the RAF), MJ Caton (head of buying footwear at JD Sports) and Samson Owolabi (head of video and creative director at Bearded Fellows).
Feedback following the event was amazing. Suzanne in Year 10 said:
I liked the fact that I could speak to a range of different people. It's definitely opened my mind to new careers.
Derron in Year 10 added:
I liked that the visitors were passionate about giving us advice to pursue our dreams.